Vulkan 1.0, Live Long And Prosper !
8:33 AM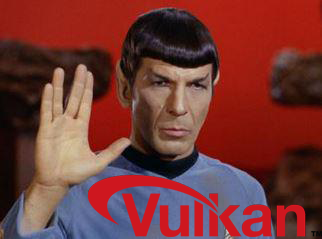 Vulkan 1.0 specification
has just been released (three hours ago).
It has been a long wait, but it looks it deserve. Specially when OpenGL driver execution is your main bottleneck.
Most of official documention from Khronos Group
is available in Github (
docs
,
samples
)
Intel, nVIDIA, AMD, Imagination (PowerVR), Qualcomm and others have released tons of content: articles, samples, demos and...
new Vulkan driver
s
!.
Here you can find
a list with all the graphic cards that have passed conformance tests
. At first sight, nVIDIA GeForce graphic cards higher than 640(M / GTX) accomplish all the requisites; so, all gamers with a three-years-old (or newer) card can be happy :-)
nVIDIA has been specially active in
Vulkan divulgation and promotion
. :-)
A brief list of programming resources:
Presentations

Vulkan overview (Feb'16)
GDC 2016

nVIDIA -- High-Performance, Low-Overhead Rendering with OpenGL and Vulkan
nVIDIA -- Vulkan and NVIDIA The Essentials

Siggraph 2015
GTC 2015

Khronos API Standards Update: Including Vulkan, OpenCL 2.1 and SPIR-V (Video)

Tutorials
Programming and Code samples